Friday, July 09, 2021
It's always a good time for a little Spike Jones & The City Slickers!
Wednesday, July 07, 2021
From the Kokomo Tribune:
Pat Kelly, Peru's famous hobo circus clown, dies
Kelly was last living son of nation's most famous tramp clown, Emmett Kelly
PERU — Thomas Patrick Kelly, the last living son of the nation's most famous hobo clown who followed his father into a career under the big top, died Sunday at Hickory Creek at Peru. He was 87.
Pat Kelly was the son of Emmett Kelly, whose sad, downtrodden "Weary Willie" character redefined the nature of clowning around the world. Unlike the jolly clowns before him, Weary Willie dressed in tatters, ate cabbage and looked like a down-on-his-luck tramp.
Bob Cline, treasurer at Peru's International Circus Hall of Fame, said that although Pat Kelly's clown character was similar to his father's, he tweaked it just enough to make it his own.
"He was tramp clown, but his mannerisms and his skits were different," Cline said. "He went out and did other things to make people laugh in his own way. The whole thing with these clowns is that everything goes wrong for them, and that makes you bust out in laughter."
Pat Kelly started developing his persona when he first clowned in 1954 with his mother, the great circus aerialist Eva Kelly Lewis, in California. But his career officially started in 1958, when he performed in Peru with his stepfather, Joe Lewis, who was a famous cop clown.
The two put on a show outside the Fred Sanger's department store, which is now home to the Miami County Museum.
In a interview with the Kokomo Tribune in 1995, Pat Kelly said he was "born and raised in clown alley," and remembers dressing up as a clown when he was just 7 years old. His earliest memories were of the colorful, bright lights of the big top and traveling with famous circus troupes with whom his mother performed.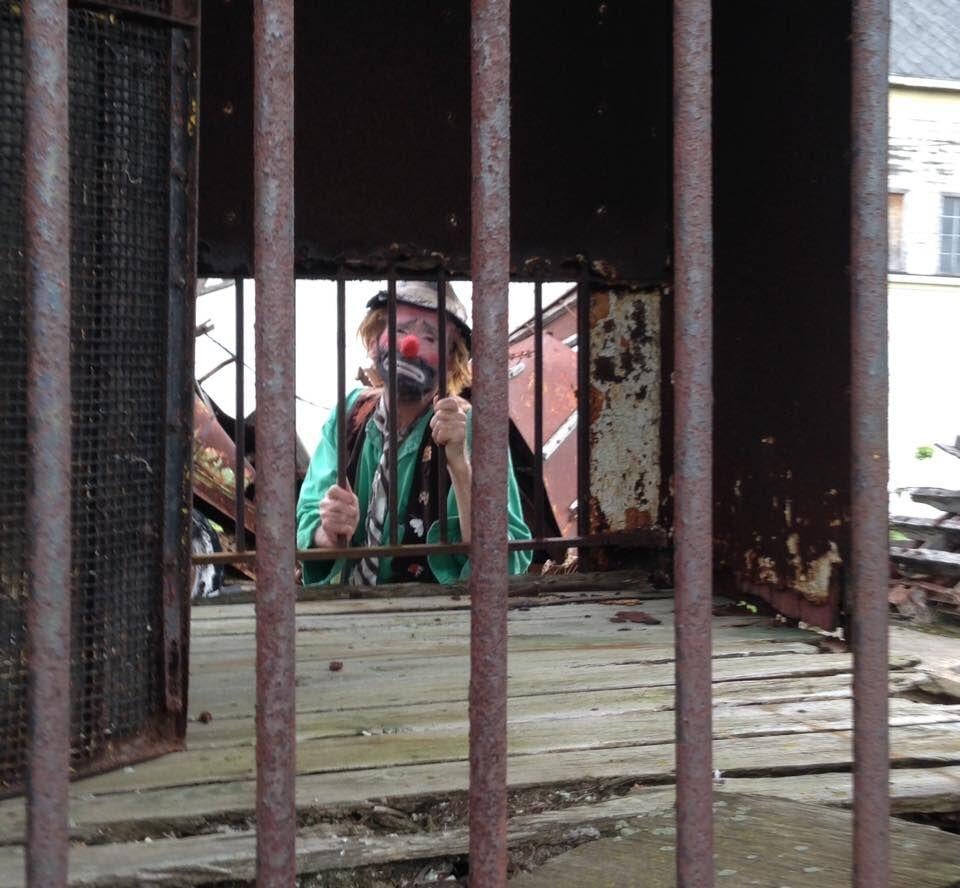 Kelly went on to perform as a sad, hobo clown in circuses around the nation, including the Shrine Circus and the world-famous wild animal trainer, Terrell Jacobs, whose circus barns were demolished just this year along U.S. 31. He was also a regular act during the annual Peru Circus City Festival in the 1960s.
After decades of performing, Kelly returned to and settled in Peru, where he quickly became the city's official clown in residence. For the last 25 years, he was the face of the International Circus Hall of Fame, putting on shows and greeting visitors during the annual Peru Circus City Festival.
Although Kelly was famous for clowning, those who knew him in Peru loved him for his gentle spirit and his ability to make just about everyone smile.
"His job as a clown was to bring laughter to the world, and his life revolved around that," Cline said. "He brought laughter to the world whether he was in makeup as a clown, or not. He was one of the most kind-hearted, gentlest souls you ever met in your life."
Tim Bessignano, caretaker of the museum in the Peru Circus Building, said it was nearly impossible not to feel better after encountering Kelly, whether it was watching him perform or just chatting with him.
"He made people happy," Bessignano said. "Some kids got scared to death because he was a clown, but most kids were just tickled to death by him."
Kelly's passing marks the end of an era in America's clowning history that was started by his father in the 1940s. His brother, Emmett Kelly Jr., also took up the family mantel and became a renowned hobo-clown performer who twice put on shows at the White House in Washington, D.C. He died in 2006.
And although Pat Kelly never gained the same kind of fame as his father and brother, he still left a legacy, both in the circus community and in Peru, as a one-of-kind clown who spread joy everywhere he went.
"Everyone is here for just a short time, but he left his mark," Bessignano said.